You can launch your online business for free without any hassle by using the WooCommerce plugin. Our common misconception is that we have to be techies to start an online business. But thanks to WordPress and its wide collection of helpful plugins. Today we will explore how to create your own online store without any coding. This is a non-technical guide.
Why Is WooCommerce Popular For Creating eCommerce Websites?
The majority of people are aware that WooCommerce is free, but its sophisticated features, including free and premium plugins and extensions, make it the most popular eCommerce platform, powering 30% of all online retailers. Let's go over some of the key reasons why online business owners should choose WooCommerce when building an alluring and engaging e-commerce website to showcase their items.
1. It Is Cost Effective
WooCommerce is one of the customizable and trustworthy eCommerce platforms that can assist you in creating a top-performing and highly responsive online store within your price range. It is a cost-effective e-commerce platform because of its cutting-edge functionality, plugins, and free themes. By building an eCommerce website using Woocommerce, even a small firm may increase the audience visibility of its products.
2. Storefront Customization
The style and appearance of your online store are crucial components of online business sales. Additionally, WooCommerce offers more than 40 free templates that may be used by all kinds of businesses and customized. You may construct and configure your storefront using WooCommerce's extensive capabilities to match the expectations of your site visitors. To increase the profitability of your e-commerce business, you can choose from the amazing themes and templates offered by WooCommerce.
3. Search Engine Friendly platform
When coupled with WooCommerce WordPress simplifies the process for companies to rate their products. WooCommerce is a search engine friendly eCommerce platform by default because WordPress is an SEO friendly CMS platform. You may improve the SEO of your e-commerce website by following a few guidelines.
4. In-depth Analysis
E-store companies fork out a sizable sum to obtain a website analysis study. However, WooCommerce enables you to obtain analytical reports pertaining to overall sales, sales by date, average orders, site visitor activity, and much more. The key benefit is that it offers an analytical report that any business owner can easily comprehend.
You don't need to engage a different person to look over your online store's report. Its report is shown as a graph, and all the participants in your sale are listed in numbers, making it an e-commerce platform that is simple to use.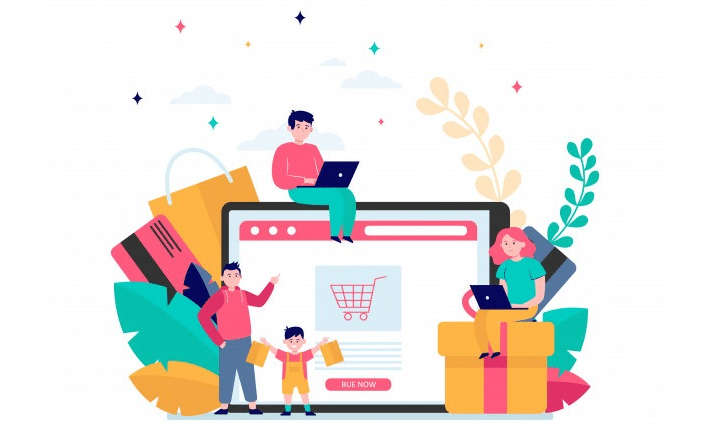 Learn How To Start Online Business Using WooCommerce: Step-By-Step Guide
You can expand your firm outside your local area by operating online. You can market to your target market from anywhere in the country or the world. Additionally, it's a fantastic method to meet people where they already hang out. There has never been a better time to get on board since more than two-thirds of Americans now shop online.
To start your own free online business with WooCommerce, follow this step-by-step guideline.
1. Define Your Online Store Audience
Prior to moving forward, spend some time identifying your audience—the individuals who would most benefit from your goods or services. This can help you establish your niche to boost future marketing efforts and will enhance every action you take during the life of your organization.
Think about who would profit most from your product or service if you already know what you want to sell or if you have a wonderful idea for an online company. It is preferable to be as explicit as you can. If you don't already have a product in mind, start with a cause that matters to you. Once you've decided on your target market, pinpoint their issues or requirements.
2. Choose What To Sell From eStore
Making a specific decision about what you want to sell is the next stage. Here are a few examples of online business ventures. You can choose homemade items like food, paper products, apparel, jewelry, and other items made of wood or paper. It's a terrific idea to sell produced goods like dinnerware, shoes, makeup, electronics, or car parts. Another good choice is digital goods like eBooks, music, design templates, and exercise videos.
T-shirts, stickers, and phone cases are examples of dropshipping products, which are goods that are produced, kept, and transported by a different company. This choice eliminates the burden of maintaining inventory and shipping goods, but it also eliminates a great deal of control.
3. Take All Necessary Legal Steps
Select a legal structure for your online business and register it. This affects every aspect of your life, including your legal obligations, taxes, and daily operations. It's crucial to launching a profitable online business. In the United States, there are numerous business types to pick from.
Get tax identification numbers and learn the tax code. Typically, the structure you select has an impact on your tax obligations. Additionally, you must think about whether or not you must charge sales tax, as well as the logistics of doing so. This varies greatly from company to company and depends on things like your location, where you transport your goods and the products you offer.
4. Start Creating Online Store Using WooCommerce
To kickstart your online business, first, you have to get a stunning and unique domain name and then choose a good hosting provider. Then choose a lightweight theme that has WooCommerce compatibility. As WooCommerce is a WordPress plugin, you have to install WordPress from your hosting. And then install & activate WooCommerce.
Just after activating WooCommerce, you have to configure the basic settings. A setup wizard will walk you through the process.
Select a payment platform. You may be familiar with PayPal or Stripe, two popular options, as these are used to handle credit card payments and transmit the funds to your bank account. WooCommerce offers a seamless setup thanks to its integration with more than a dozen payment processors.
WooCommerce Payments is a fantastic alternative; it's a free extension that lets you manage payments, refunds, and more from the same dashboard where you manage your store's other features. Additionally, it has excellent features like support for multiple currencies, express payment alternatives, and instant transfer possibilities.
You could be required to collect sales tax, depending on local laws. While utilizing WooCommerce's basic settings, you can establish your own tax rates, a plugin like WooCommerce Tax calculates the appropriate sales tax based on the city, state, and nation you ship to. Moreover, there is no setup fee.
There are hundreds of free and paid extensions available on the WooCommerce marketplace that give your online business further capabilities. There are countless options to suit your business strategy! Additionally, each extension comes with thorough documentation and unmatched support, so you'll never be at a loss for what to do next.
5. Design Your Online Business Using Stunning WooCommerce Templates
The information you'll need to market your items and draw repeat business is now ready to be included in the content of your website. The main information on your website—data about you, your business, and your policies—is contained in pages. There are a few pages that every website requires, albeit the precise ones will vary depending on your products, mission, and target audience.
Homepage that summarizes your business and its services.
About Us page that includes details about your company's history, mission, and goals.
Contact page for consumers to use to contact you.
FAQ page containing solutions to frequently asked questions.
Privacy policy page that details your privacy practices for handling client data.
WooCommerce Templates At Their Finest
You won't have to worry about developing your website from scratch if you use WooCommerce templates for Elementor. Instead, ready-made templates allow you to quickly and easily add content to your website. Here is the list of popular templates:
Begin An Online Business Now
As an online store owner, you may do what you love, address customer issues, and interact with others who share your passions. Furthermore, launching a profitable online business doesn't have to be challenging because WooCommerce offers all the resources you require to set up your store and attract new clients.
That's all you need to start a free online business using WooCommerce and WordPress templates. If you have found this guide helpful, then share it with others. Also, subscribe to our blog to keep up with eCommerce trends, tips, and guides.